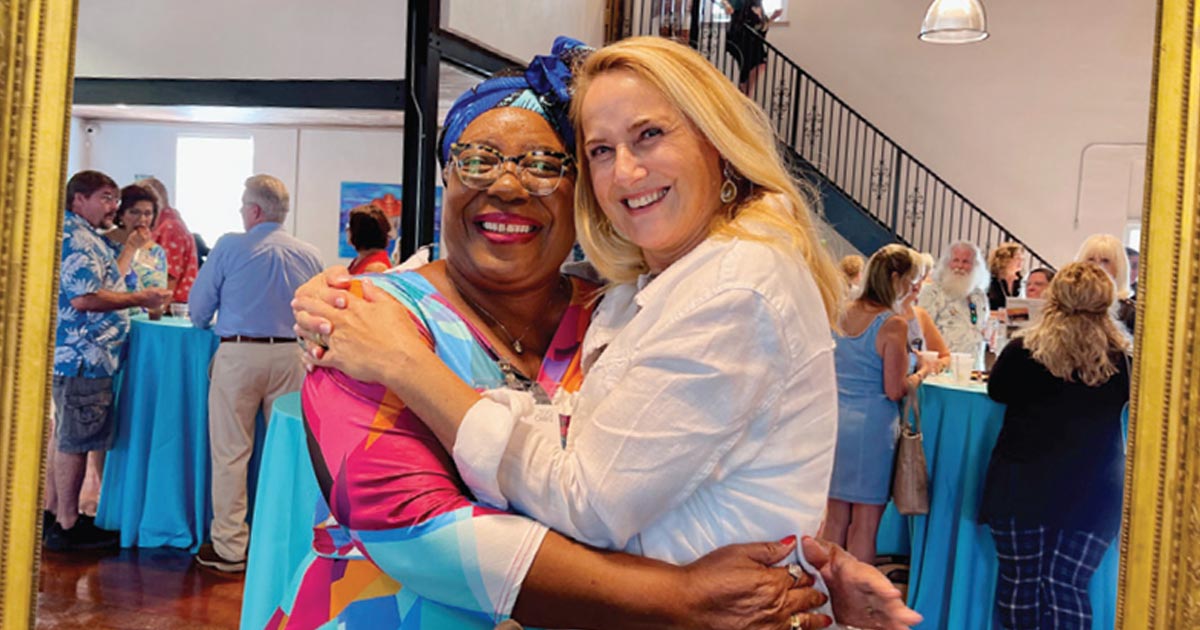 01 Oct

Rebecca Miller, President and Founder, Miller Permitting & Land Development

Chair of St. Lucie Cultural Alliance
By Dorothy Kamm

Rebecca Miller, who is President and founder of Miller Permitting & Land Development, is one of the driving forces behind the St. Lucie Cultural Alliance. She became attuned to art and culture growing up in South India, where her parents were missionaries. They also traveled extensively: by the time she was 12 years old she had traveled around the world three times. The family then moved to Canada, where she earned both a bachelor's and a master's degree. Still having wanderlust and a desire to be exposed to, and immersed in, other cultures and cuisines, she backpacked around the world.

Eventually, Rebecca took a job with American Express, where she held leadership positions, including land development for the company's expansions. She also worked for Bear Stearns. During this time, she continued traveling and moved across country several times. There came a point when she and her husband wanted to stay rooted. In 2004, her husband accepted a job in Stuart, and they moved to the Treasure Coast. At that time, Rebecca founded Miller Permitting & Land Development which deals with large scale projects and counts among its clients Publix, HCA Healthcare and The Related Group.

Her professional world is enmeshed with art. There are requirements for art to be included when a project is developed, with original art being incorporated with the interior design. As much as possible, she tries to use art created by artists local to a project. She also supports artists by purchasing their creations for her personal collection.

While Rebecca always has been involved with the arts, including the former Art Mundo in Fort Pierce, it was during a trip to Chicago when she realized that St. Lucie County's cultural offerings were invisible to potential visitors.

According to Rebecca, "I was in a client's waiting room and picked up a magazine. There was an ad by Visit Florida showing a map, with St. Lucie County literally blacked out." This upsetting feature spurred her to follow-up and find out why the cultural arts of St. Lucie County was under-represented, starting her on the path to lobby for a cultural alliance.

Building relationships is paramount to creating and sustaining a successful business or organization. She has served on numerous Task Forces, was Executive Vice President of the Economic Development Council of St. Lucie County, and founder of a regional think tank for economic development, called PREA, that connects business leaders and regional partners in adjacent counties. Rebecca's solid relationships with our region's key business leaders in both the public and private sectors is an asset, one that she draws upon for the benefit of the St. Lucie Cultural Alliance. Then, too, she has dealt with cultural alliances in other places and knew what was needed to make the St. Lucie Cultural Alliance a success. She lobbied county commissioners and administrators and got their support for the organization. She got funding and assisted with establishing partnerships.

"The Cultural Alliance's goal is to connect the members to each other, to funding, and to potential clients, and to make each one shine," she says. Partnering with public schools is another key area and a work in progress. "Arts education for children is essential to their well-being and will propagate people who will support the arts as adults," says Rebecca.

She wants to get corporate St. Lucie involved with the Cultural Alliance, such as Tropicana and manufacturers, for example. "We are helping to drive the corporate bus by attracting people to move here because of our cultural climate," she emphasizes. Cross county partnerships are important, too.

Her business acumen and energy, combined with her passion for all the arts, has provided vision and direction to bring together artists across a variety of fields, cultural venues and businesses to promote all that St. Lucie County has to offer. "It's a win for all of us, for anyone who cares about the cultural climate," says Rebecca.